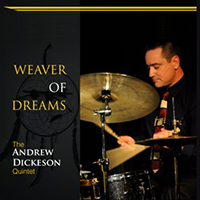 Album Download: AUD $15.20
With WEAVER OF DREAMS, his exciting debut album, drummer Andrew Dickeson has elevated himself beyond his universally accepted perch as a stellar sideman and is now staking his claim as a distinguished bandleader. As a stalwart of the Australian jazz scene, and sideman to such international greats as Johnny Griffin, Junior Cook, Lee Konitz, Kirk Lightsey, Mark Murphy and many more, he has learned much of the art of being a leader, the essence of which, in his opinion, "is to communicate to the band the concept, sound and feeling you want, while encouraging the freedom to express themselves."
He continues: "As my playing evolved over many years as a sideman, a role I still love and enjoy, I knew that it was time to make a musical statement of my own and to present music with my 'fingerprint', on it. I could hear this band in my mind long before it was formed, and I felt that it would be something special. My concept was to have a band that was creative, polished and swingin', in which each tune would be a musical journey, for us and listeners. I chose musicians who could create the sound and feeling I aimed for, and they've responded beautifully.
"Roger Manins and I go back many years, and we've had considerable experience, both here and abroad. Eamon McNelis, Alex Boneham and Steve Barry are rising stars who play with strength, personality and maturity far beyond their years. The combination is a formidable one - full of excitement and energy.
"The repertoire on this album, recorded live at The Sound Lounge in Sydney, at a concert for SIMA, is a good indication of the band's direction. It's energetic, exciting and, just as importantly, entertaining. My aim is always to include the listener in our experience – through SWING – the universal rhythmic feeling that allows people to share the joy of life through music. On Weaver of Dreams you'll hear a blend of classics from the Great American Songbook, which I have reworked and personalised, some less frequently performed tunes by Charlie Parker, Dexter Gordon and Bobby Hutcherson, presenting exciting melodic, harmonic and rhythmic challenges, and two beautifully poignant ballads. To fully display the talents of this ensemble, I've chosen to feature different combinations: quintet, quartet, duet and solo drum kit."
To finish, in the words of another very fine drummer, George Coleman Jr, "Dickeson, like his mentors and heroes, ensures that his music comes from the heart and is ALWAYS swinging hard!"
Andrew Dickeson - Drums/Arrangements
Roger Manins - Tenor Saxophone
Eamon McNelis - Trumpet
Steve Barry - Piano
Alex Boneham - Bass