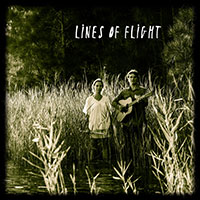 Bolts of pent-up energy, surging, breaking, exploding - 'lines of flight' describes the creative potential of not just breaking away from the norm but shooting in an unexpected and refreshing direction. This is the approach taken by Brent Keogh and Katie Anderson to their music.

Keogh (vox, guitar, mandolin, oud, percussion) has an eclectic musical background - he has performed alongside indie bands the Jezebels and Cloud Control, has studied vocals with Darren Percival (The Voice 2012), Egyptian oud with Aria award winner Joseph Tawadros and has completed a doctorate in World Music through Macquarie University.

Anderson (vox, flute, Irish whistle, percussion) is an accomplished musician and teacher. While completing music degrees at UNSW, she studied flute under professional flautists Karen Lonsdale and Kathleen Gallagher. She performed for over ten years with the Sydney Wind Symphony.

After years of close collaboration, the duo infuses world, folk, classical and pop influences to create their unique and earthy sound. 'Lines of Flight' weaves the sounds of the guitar, middle eastern oud, mandolin, Irish whistle, flute and vocals into refreshing arrangements of traditional and original songs.