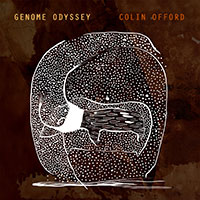 Album Download: AUD $18.00
In 2017 Colin Offord created the music for GENOME ODYSSEY, a theatre work directed by actor/director Joan Mompart: Llum Theatre Geneva. It was produced by Anna-Sapfo Malaspinas, a Computational Biologist for the Population Genomics Group, University of Lausanne, Switzerland. Her team have been working with anthropologists, scientists and Aboriginal elders in Australia for some time. Anna, Joan, writer-actor Ludovic Payet and Dr Yilan Yeh (who also plays on the recordings) and Colin travelled to Alice Springs then onto Uluru (Ayres Rock) to meet with the rangers and to find locations for recordings.
Colin recorded in Central Australia - in the vast, open landscape around Uluru and in the watery resonance of Simpson's Gap. In an attempt to bring a little of the past into the present he limited himself to only a few instruments: Kuping-Filipino bamboo Jaws Harp, Conch Shells and Windpipes. Colin also improvised some abstract, harmonic vocal pieces. Working in his studio in Fujian China, Colin mixed these recordings with recordings he had made, a few years back, in the Southern Moreton Bay islands: Earthharp, birdsong, insects, wind, thunder and rain.
The end result is a sonically rich soundscape moving through both time and space. Colin created GENOME ODYSSEY about our shared ancestry - an endless chain of DNA stretching back in time and uniting us all. And it's very different from any of his previous albums.