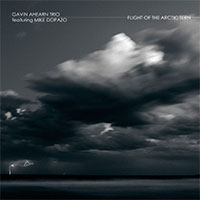 Album Download: AUD $13.50
The Gavin Ahearn Trio debut album is Flight of The Arctic Tern. This album features original jazz compositions by the trio members: Gavin Ahearn (piano), Christian Coleman (drums) and Chris Riggenbach (bass). Four of the pieces also feature the innovative playing of NYC based saxophonist Mike Dopazo.
Inspired/influenced by the current music of Peter Erskine, Enrico Pieruninzi, Mike Nock, Gonzalo Rubalcaba, Dave Douglas, Marc Johnson, Chick Corea as well as all the jazz greats and a very diverse range of influences e.g. Andre 3000, Xenakis, Ravel, Curtis Mayfield, Nitin Sawhney, AC/DC, Sergio Mendes, Richard Bona, Van Halen, Micheal Jackson, Djavan, Zappa…
The he title track 'Flight of the Arctic Tern' was inspired by the French wildlife documentary "Winged Migration" and specifically by the incredible migration undertaken by the Arctic Tern each year.