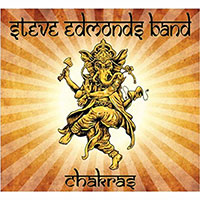 Album Download: AUD $12.50
Chakra is the 2017 EP by The Steve Edmonds Band. The Steve Edmonds Band have wowed audiences across Australia with their high-energy brand of funky blues, roots/rock.
Steve dazzles his audiences on every level - chops, soul, intensity, songs and the ability to deliver exciting live performances.
Steve's passion, together with hard work and talent, has steadily amassed a large following on the East Coast of Australia.
Edmonds' many years as guitarist to some of Australia's finest recording artists (Jimmy Barnes, Renee Geyer, Doug Parkinson, Billy Thorpe, Delta Goodrem, Margaret Urlich, Chain, Hippo's, Matt Finish and Shannon Noll to name a few) has earned him a quality reputation as sideman to the stars and guitarist extraordinaire.