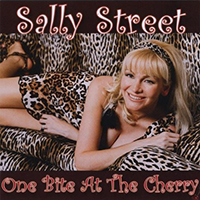 Album Download: AUD $15.20
Sally Street released her second jazz album, One Bite At The Cherry in 2008. The album served as an exclamation mark to her stellar career and maintained the momentum created by her critically-acclaimed debut jazz album. One Bite At The Cherry is supported by extensive airplay across jazz and blues radio stations Australia wide. Sally performs in Australia and internationally with her bands, consisting of the cream of the Australian jazz scene. Born into a musical family, Sally has completed AMEB piano studies and is mentored by jazz vocal legends Kerrie Biddell, Joy Yates and Steve Clisby.
Sally Street is described by the Australian press as the 'It Girl' of the Sydney jazz scene, her jazz albums are jam-packed with saucy jazz, blues and latin-jazz songs with a delivery straight from 'Naughty Land'. Sally is a sassy jazz chanteuse with a voice and personality that's seductive and playful - think Peggy Lee, Eartha Kitt, with a touch of Marilyn and Blossom Dearie! In essence, Sally puts the muse back into music and brings razzle dazzle into the magical world of jazz.
One Bite At The Cherry features Bill Risby(piano), Adrian Cunningham(sax), Ian Cooper(strings), Andrew Dickeson(drums), Natalie Morrison(bass) and Jonathan Pease(guitar). Produced by Sally and Steve Clisby.